2019 School Directors Guide
Eighteen of the best educational and curricular options in Tulsa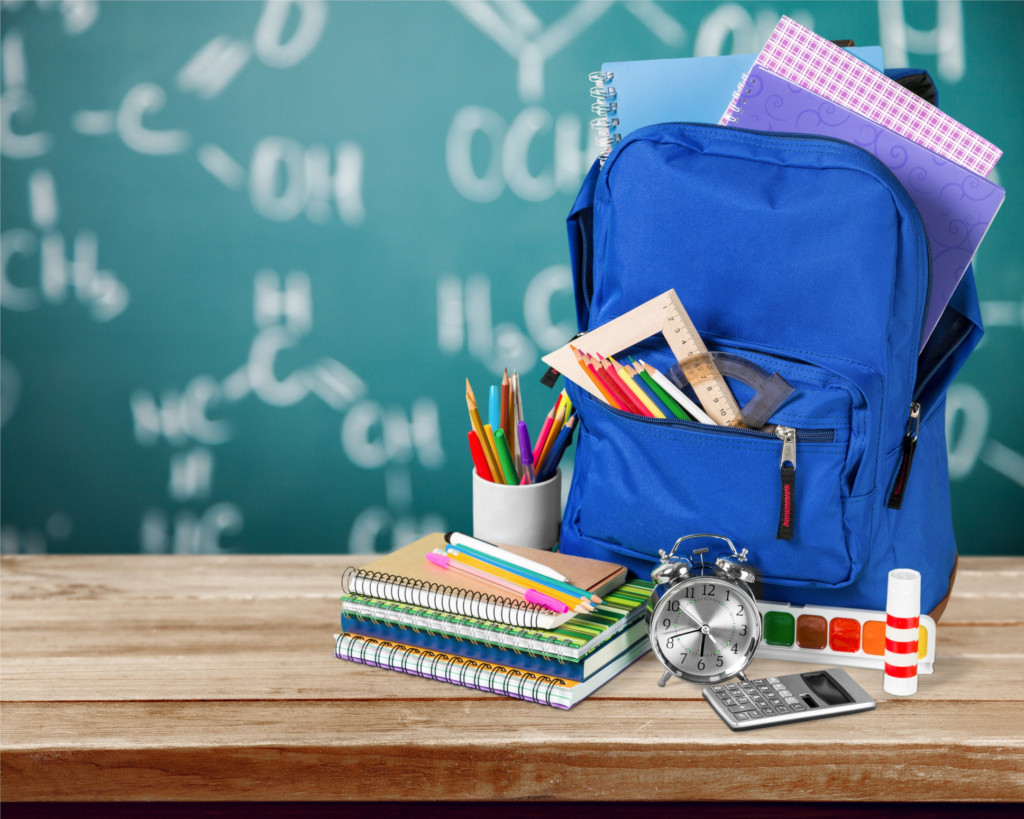 Three Locations:
Happy Campers
1819 E. 15th St., Tulsa
918.584.2779
hcatulsa@gmail.com
7:30am – 5:30pm
Happy Campers at Temple Israel
2004 E. 22nd Pl., Tulsa
918.747.3122
happycamperstempleisrael@gmail.com 
7:00am – 6:00pm
Happy Campers at John Knox
2929 E. 31st St., Tulsa
918.742.7656
happycampersjohnknox@gmail.com
Ages 5-12 years old for after school care
Happy Campers Academy offers Tulsa and surrounding communities quality child care while families are at work. We accept children ages 6 weeks to five years of age, and provide parents an opportunity to view their children in the early learning center through a closed circuit internet connection. At all three of our midtown Tulsa locations, Happy Campers utilizes a child-centered philosophy and partners with our families to provide a quality educational experience in a nurturing environment. Our highly trained staff works to get to know each individual child and his/her cognitive and developmental needs, while seeking input from families to make the home and school transition smooth and communication open for the success of the child. Through a balance of developmental play and planned educational activities, our students learn best through doing–all while having fun and expressing themselves creatively. We start the foundation for learning when our students are infants–bonding and connecting. When they become toddlers, the focus is self-help and self-recognition and then during the twos, we build upon independence and language skills. The three-year-olds start making cognitive connections and experience the beginnings of social skills. Finally, in PreK, students start connecting all the tools from every stage to form a strong foundation for early reading preparation to build confidence for kindergarten. Our teachers conduct conferences twice a year in order to build a strong home and school team. We want to keep parents informed about what their child(ren) is learning, developmental milestones that are being achieved, and suggest skills that can be practiced at home. We believe that our child-centered philosophy will foster a love for learning in these ever-important early childhood years.
Our Happy Campers at John Knox location offers after-school care for students at Patrick Henry, Carnegie, Lee, and Eliot. We offer a place for kids to do homework, play outside, and have a safe and structured time after school while parents are working for ages 5-12 years.
---
Keith A. Currivean, Ph.D. – Head of School
6363 S. Trenton Ave.
Tulsa, OK
918.745.9868
Grades: P3 – 12th
Metro Christian Academy provides an accredited college-preparatory Christian education that is founded on biblical principles. At the heart of Metro is a sense of community. Students, parents, faculty and staff work together to educate, nurture and grow students. Metro is noted for its Christian culture, academic achievements, innovative approaches to learning and successful programs in the arts, athletics and leadership. For more information, go to metroca.com or contact us at 918.745.9868 or admissions@metroca.com.
---
Jayme Wingo-Baker
4849 S. Mingo
Tulsa, OK
918.622.2327
Miss Helen's Private School is a family-owned, family-focused business celebrating over 65 years. Teachers are college degreed, caring and dedicated. All pre-kindergarten classes offer music, Spanish, art, stories & science, pre-reading skills, math and dance through small group and independent activities. Small class sizes in grades K-5 enable students to have more individualized instruction and work beyond traditional grade levels. In addition to basic academics, we offer Spanish, fine arts, and community service and charitable projects as well as health, nutrition and fitness. After-school activities include computer classes, swimming, cheerleading, Amazing Athletes and more. Serving ages 3 years through 5th grade. We thank the TulsaKids readers for voting us the 2018 Family Favorite for Best Preschool/Early Learning Center AND Best Private Elementary School in the Tulsa Area. Come for a tour and see why!
---
Nancy Davis, Head of School
Jamie Gartside, Admissions
3745 S. Hudson Ave.
Tulsa, OK
918.622.2890
As the first and only accredited Montessori School in Oklahoma, Undercroft Montessori School serves students from age three through eighth grade using an authentic Montessori methodology and philosophy. Classes in each level, from primary through middle school, include multi-age groups of students, which allows them to build lasting relationships with both peers and guides. Students learn through unique and memorable experiences. Abstract concepts are taught using visual and tactile learning tools, which foster more effective long-term retention. Students learn independence by exercising freedom within limits. Self-correction and self-assessment foster responsibility and confidence. Our students are diverse in interest, personality and learning style. Our approach supports the development of individual capacities and our outcomes are consistent. Our students are well prepared academically and demonstrate creativity, confidence, competence, leadership and, most importantly, they love to learn.
---
Patricia Hollingsworth
326 S. College Ave.
Tulsa, OK
918.631.5060
www.utulsa.edu/uschool
University School offers a challenging, yet nurturing, environment for gifted students ages 3 through 8th grade. Our program is well-rounded and includes art, music, physical education, foreign language, and computer classes for all ages. Located on The University of Tulsa campus, our beautiful facility provides a unique setting and resources that few schools can match. University School students benefit from a rich variety of learning opportunities and interactions with college professors and students as they endeavor to maximize their potential, develop creativity, and become responsible citizens.
---
Kirk Post, Headmaster and Founder
John Ahrens, Director of Operations
6310 E. 30th St.
Tulsa, OK
918.832.4600
Augustine Christian Academy is a Christian, classical, non-denominational, college preparatory school for grades K4–12. We are dedicated to educating young people to think, reason, and persuade from a distinctly Christian worldview. Our goal is to equip students to understand their times, to impact their culture and to serve God and man. Augustine Christian Academy uses a classical model that integrates every subject with the Biblical truths of the Christian faith. Find us on Facebook and on our website at www.acatulsa.org!
---
Paula Gradney-Garner
1301 S. Boston Ave.
Tulsa, OK
918.699.0112
For over 50 years Boston Avenue Weekday School has nurtured children through the infant and toddler age and prepared preschoolers well for kindergarten. We offer a warm, accepting Christian environment while teaching a theme-based curriculum in center-arranged classrooms. The small teacher to student ratio allows each child ample one-on-one attention. Activities include positive behavior skills, community visitors, chapel, music, exercise, yoga, sign language and Spanish vocabulary. We have a summer program for infants through 3rd grade each summer with a different theme each month. Call for information and a tour today! Enrollment continues throughout the year as space permits. We partner with Sprouts Development Initiative and the OU Early Childhood Education Institute. Oklahoma DHS Licensed.
---
Headmaster Father Philip Cook
2520 S. Yorktown Ave.
Tulsa, OK
918.746.2600
Cascia Hall is a Catholic, Augustinian school for students of all faiths. Students undertake a challenging course of study in a supportive, community environment. With a total enrollment of less than 550 in seven grades, students are related to as individuals, resulting in higher motivation. Students are encouraged to participate in extracurricular activities (academic, athletics, and arts) and to provide service to their school, churches, and communities. The college-preparatory curriculum features alignment in all subject areas in Grades 6-12, the opportunity to earn high school credit in middle school, and the possibility of earning college credit in high school. The school offers a large variety of electives, especially in the arts, and our sports programs remain competitive.
---
Ami Chapman or Mollie Heaberlin
3702 S. 90th East Ave.
Tulsa, OK
918.628.6524
Christian Montessori Academy offers students innovative, progressive, and individualized opportunities using the Montessori Method of instruction in a non-denominational setting. Students don't always fit the traditional cookie-cutter classrooms. Montessori education is a proven method of excellence in the classroom, allowing students to reach their full potential. CMA students have a strong sense of citizenship, community involvement, and values. Students are encouraged to explore and expand aspects of curriculum for a deeper understanding in a non-stressful environment. Our advanced curriculum available for ages 3-15 (preschool through 8th grade) includes: Mathematics, Language, Science, Geography, History, Life Skills, Sensory development, Spanish, Art, & Music. Extra-curricular activities include: Tulsa Engineering Challenge, piano, recorder, sewing, beginning robotics, and swimming. Theme-based summer camps are also available. If you feel your child would benefit from a non-traditional setting, please give us a call. Tours are given Monday through Thursday.
---
Laurie Pearn
3515 S. Harvard
Tulsa, OK
918.743.7673
Our program is a Monday, Wednesday, Friday pre-school program for children ages 8 months to 5 years or pre-kindergarten. Hours are 9:30 a.m. to 2:30 p.m. There are several options as to how many days and the times children can attend. In the afternoons, we offer enrichment classes in gymnastics, music and "Bible Buddies." Our staff members are chosen for their early childhood experience and training as well as sensitivity to the individual needs of each child. We use a hands-on approach so children learn by doing. Classes are arranged in learning centers and areas of interest where the daily theme is carried out throughout the room. Parent participation is encouraged.
---
J.P. Culley, Headmaster
5666 E. 81st St.
Tulsa, OK
918.481.1111
Grades: Pre-school – Grade 12
Holland Hall is Tulsa's PreK through Grade 12 Independent Episcopal School. We offer a student/teacher ratio of 9:1, an array of exciting electives, a lively, loving community, an apprenticeship in self-reliance, dozens of individual and team sports, and transformative arts programming. And we encourage your child to choose boldly from all we offer — to embrace adventure, take new paths, dare greatly, and engage fully with the exceptional opportunities at Holland Hall. We honor the individual integrity of each child and provide the bedrock education every student needs to succeed in college, work, and the world beyond.
---
1700 N. Redbud Pl.
Broken Arrow, OK
918.258.5437
Serving birth through 4th grade. Our active learning environment emphasizes math and literacy skills through a personalized academic curriculum, giving our students a distinct advantage at even the earliest levels. We mix Montessori techniques, Touch Math, Phonics, Sight Words, and standard curriculum to form the strongest combined approach to learning.
---
Jay Luetkemeyer, Principal
1519 S. Quincy Ave.
Tulsa, OK
918.584.4631
Since its founding in 1918 as Sacred Heart School under the direction of the Ursuline Sisters, Marquette has a long tradition of academic excellence. That tradition continues today as we educate our children for the world of tomorrow. Combined with outstanding academics, Marquette students receive an education that nurtures their spirit and heart. Participating in weekly Masses as well as mission projects in and out of school, our children develop empathy and compassion for the less fortunate. These experiences will enable them as future leaders to govern not only with their minds but also with a conscience. As a service to the Parish of Christ the King, Marquette Catholic School teaches Catholic values and offers a comprehensive curriculum to preschool, elementary, and middle school students in an atmosphere that promotes the growth of each child's mind, body and spirit.
---
Mrs. Lisa Padgett, Admissions
8304 S. 107th E. Ave.
Tulsa, OK
918.294.0404
Mingo Valley Christian, now in our 43rd year, is a college preparatory, non-denominational, private school, serving students in grades PreK-12, through personalized learning and maximum growth for each student. We partner with parents and incorporate a Christian worldview into all aspects of the learning process. We know our students are tomorrow's leaders, and our school culture is infused with opportunities for leadership, mentoring, and service to the Tulsa community. Learning happens best in the context of relationships, so our teachers engage personally with each student to encourage academic success. We offer honors and AP courses, NHS/NJHS, concurrent college enrollment, art, computer, music, and foreign language, with technology utilized throughout all academic disciplines. Our highly regarded theatre program attracts arts patrons from across the Tulsa community. Our athletic programs include football, volleyball, basketball, soccer, cross country/track and cheerleading. For more information or to schedule a tour or shadowing, please call or visit our website. Accreditation: State of Oklahoma (OPSAC); AdvancED; Association of Christian Schools International (ACSI).
---
Kevin Smith, Headmaster
2206 S. Lewis Ave.
Tulsa, OK
918.746.4238
Founded in 1926, Monte Cassino is a traditional Catholic school that focuses its efforts on outstanding instruction of reading, writing, math and the sciences. As a school, Monte Cassino classes rank at the 97th percentile or above when compared to all schools, public or private, across the United States. Our programs serve students from three years of age to eighth grade and encourage social and moral development within a strong community. In addition to the academic, community and social connections that Monte Cassino students develop, a myriad of opportunities exist for foreign language instruction, fine arts, innovative and applied sciences, athletics and individualized approaches for gifted and talented learners.
---
Heather Koerner, registrar
Owasso, OK
info@rejoiceschool.com
RCS Preschool/Elementary
10701 N. 129th E. Ave.
Owasso, OK
918.272.7235
RCS Middle/High School
13407 E. 106th Street N.
Owasso, OK
918.516.0050
The right school will change a child's future. At Rejoice Christian Schools (RCS), our experienced faculty provides for your child's best future through Christian nurturing, educational challenges, and small class sizes. Year after year, RCS continues to rank as one of the top academic schools in the country. Our God-given ministry is to lead young people to know Christ and train them in biblical principles, Christian character, language and traditional subject matter. RCS offers a complete curriculum from Pre3 – 12th grade, including college preparatory and honors classes, a vibrant arts program and a dynamic sports program.
---
Kacey Davenport
2433 W. 61st St.
Tulsa, OK
918.446.3553
Riverfield provides a student-centered approach to education to students 8 weeks through 12th grade with an innovative program of authentic, experiential learning. At RCDS, individuality is valued and the needs of the whole student are honored. Small class sizes, along with the collaborative nature of our classrooms, provide the opportunity for students to cultivate leadership, interpersonal skills, and the confidence needed for success today and tomorrow. Personalized programming and flexible scheduling offer Middle and Upper School students the opportunity to develop talents and explore interests in a college prep setting. The 120-acre campus encompasses a barnyard, hiking trails, gardens, freshwater system, outdoor classrooms, and athletic fields. Accredited by the Independent Schools Association of the Southwest (ISAS), National Association for the Education of Young Children (NAEYC) and Oklahoma Private School Accreditation Commission (OPSAC), Riverfield is celebrating its 35th year.
---
3259 S. Yale
Tulsa, OK
918.742.5541
Saied Music Company is proud to be in our 73rd year serving Oklahoma music makers! Saied Music School presents our fall 2019 studio offerings, including classes for beginning ukulele.
We continue to provide private lessons in all band and orchestra instruments, guitar, voice, piano and more to learners of all ages and abilities. Our teachers are carefully selected for their teaching experience, musical ability and passion for sharing their craft.
Call 918.252.5541 or visit us online at www.saiedmusic.com for more information or to register.
Be Happy. Be Healthy. Be Smart. Make Music!
Comments
comments