2019 Family Favorites Winners and Finalists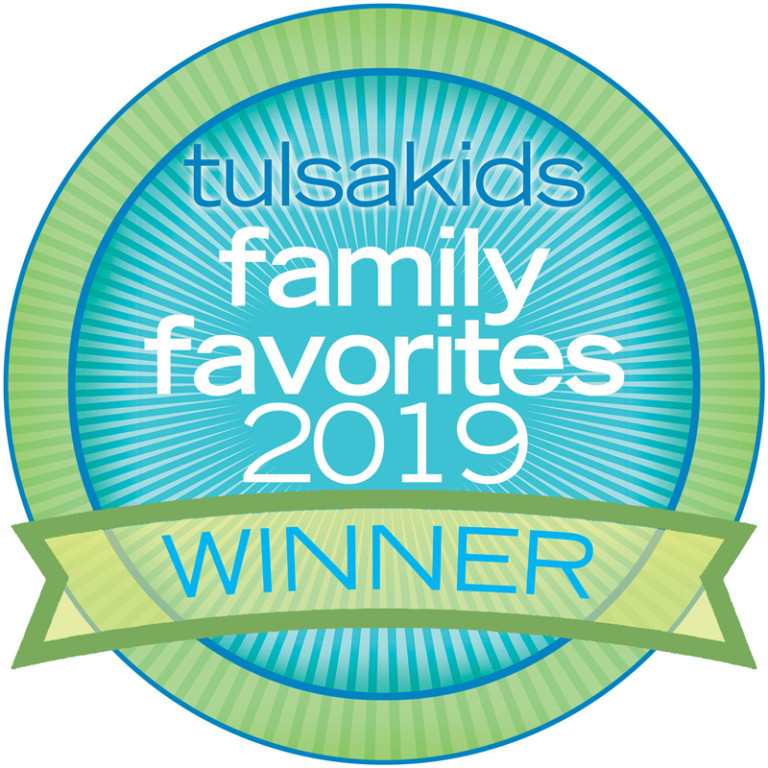 Culture & Travel
Favorite Cultural Spot: Tulsa Zoo
Elephants, lizards and grizzly bears—Oh my! With countless opportunities to see and learn about a wide variety of animals, insects, environments, cultures from around the world and, of course, the new Lost Kingdom, the Tulsa Zoo is a destination that TulsaKids' readers count on for family fun year after year.
Every December, children watch in wonder as Clara, the Nutcracker and the evil Mouse King, along with a host of other memorable characters including the Sugar Plum Fairy, dance across the stage in the Tulsa Ballet's performance of The Nutcracker, the classic holiday story that never fails to delight audience members of all ages.
Finalists: Disney on Ice, Paw Patrol Live
Favorite Family-Friendly Festival: Rooster Days
Cock-A-Doodle-Doo! If your family enjoys a good time, then Rooster Days is perfect for you! Now in its 88th year, Broken Arrow's Rooster Days Festival is beloved by TulsaKids' readers because they know they will find the perfect combination of classic family fun including great food, live entertainment, carnival rides, a cornhole tournament, a parade and so much more.
Everyone has a favorite sports team that they stand by through thick and thin, so we won't even try to begin convincing you to change yours. However, the readers of TulsaKids magazine have spoken, and the Oklahoma Sooners are the crowd favorite.
Make way for the Gathering Place! Last September Tulsa unveiled this amazing king of parks, and excitement over the diverse array of playgrounds, water attractions, dining options and other amenities is still going strong. After all, where else can you take a trip down a partially underground slide, navigate your way through a water maze, float along in a kayak, build a sandcastle, attend an outdoor concert, enjoy fine dining and mingle with nature all in the same place? Skip the research and make your way to the Gathering Place today!
Although you probably won't have the thrilling opportunity of crossing paths with a band of thieves, you'll find that Robbers Cave State Park has much more exciting things in store, with thousands of acres of rugged woodland scenery and countless ways to enjoy it, including hiking and equestrian trails, cliffs for climbing, opportunities for hunting and fishing, multiple campground options, cabins and a lodge, and, of course, the legendary outlaw cave. Located in southeast Oklahoma in the San Bois Mountains, Robbers Cave is well worth the drive.
Favorite Place to Camp in Oklahoma: Broken Bow
Happy campers unite! Located within Beaver's Bend State Park, Broken Bow Lake is the ultimate camping destination, with a variety of campsites that provide guests with scenic views and up-close nature experiences. For those who prefer to see nature from the comfort of a climate-controlled environment, cabins are available to rent.
Favorite Weekend Getaway: Branson
When a three-day weekend is on the horizon, there's no place better to go than Branson, MO, a destination that's not too far away and has every kind of family-friendly fun imaginable, from spending the day at Silver Dollar City and parasailing on Table Rock Lake, to watching a show at Dolly Parton's Stampede, to catching a ride on the Ozark Zephyr locomotive and going for a hike at Dogwood Canyon Nature Park.
---
Delicious Dining Options
Favorite Grocery Store: Reasor's
Tulsa has a lot of grocery-store options, but who likes having to make multiple stops in their quest to check off every item on their list? Our readers choose Reasor's because they know they will find top-quality meat and seafood, fresh produce, beautiful flowers and floral arrangements, treats from the bakery, necessities from the pharmacy, and a selection of wines for entertaining or unwinding after a busy day. In participating locations, busy parents even have the option of shopping online and picking up their entire order without ever stepping foot in the store—free for orders over $30!
Favorite Place to Get Pizza: Hideaway Pizza
You know the song: "When the moon hits your eye like a big pizza pie, that's amore!" Yes, amore indeed when the pizza comes from Hideaway, an Oklahoma-born company with a passion for crafting award-winning specialty pizzas along with a host of other delicious options like sandwiches, deep-pan pastas and a build-your-own pizza sure to please even the pickiest eaters. Start a new tradition and try a different specialty pizza every Friday night!
Favorite Place to Get Ice Cream (or other frozen treat): Braum's
TulsaKids readers know that when ice cream is in demand, Braum's is the place to be. With so many flavors of rich, old-fashioned ice cream to choose from, not to mention a tempting selection of sundaes, soft frozen yogurt, malts and shakes, mixes and sherbet freezes, it's no wonder that Braum's has been a family favorite for over 50 years. Moooove yourself and the kiddos down to your local Braum's today!
A Tulsa tradition, Ron's Hamburgers & Chili, where the homemade hamburgers, fries and award-winning chili are freshly prepared each day, has a burger to please every member of the family.
It's undeniable that slowing down and enjoying life's little moments can be a challenge in today's fast-paced world, but Taziki's Mediterranean Café makes it easy to do by giving guests a taste of the Mediterranean lifestyle as they kick back and enjoy fresh and colorful Mediterranean cuisine in an atmosphere that encourages family conversation through delicious food.
Favorite Healthy Eating Restaurant: Panera Bread
If you're like a lot of people, the thought of healthy food conjures up images of cardboard. Fortunately, Panera Bread has mastered the art of creating healthy options that are actually something to cheer about, with an array of delectable salads, sandwiches and soups, and a kids menu that make it easy to stay on track without fantasizing about derailing and going for a donut. But let's face it, the siren call of Panera's vanilla cinnamon roll is hard to resist! Perhaps a compromise?
How many times have you heard the "But I don't want to eat that!" argument this week? These are trying times, and the Chick-fil-A cows are here to rescue you with our readers' favorite kids' menu that includes the chicken nuggets and Waffle Potato Fries that all kids love, along with a special surprise. Save yourself from another food fight and fly down to Chick-fil-A as fast as possible.
---
Let's Party!
If you or your kids are growing weary of the same old party routine, it's time to blow things up and invite Dustin the Balloon Guy to bring the fun to the celebration. With a knack for putting on a highly entertaining show that incorporates amazing balloon creations and humor, Dustin creates a memorable party experience that guests of all ages can enjoy.
A place where the food is never ending and the fun and games are infinitely entertaining … yes, you guessed right, we're talking about Incredible Pizza, the birthday party venue that will put you on the map as the best birthday-party-throwing parent around. Go karts, laser tag, mini bowling, a trampoline park, games and not to mention the 150-plus item all-you-can-eat buffet are just a few of the reasons why children and adults alike love parties at Incredible Pizza.
Favorite Place to Buy Party Treats: Merritt's Bakery
A party without treats is the equivalent of getting a pail full of celery on Halloween—not good. Here at TulsaKids, we have a tendency to hover around the treat table, especially when it's filled with goodies from Merritt's Bakery, one of Tulsa's most beloved bakeries offering a delectable selection of handmade cakes, pies, donuts, specialty cupcakes such as chocolate ganache, brownies, cookies—you name it—the list goes on and on. We challenge you to choose just one favorite for your next party.
Favorite Locally Owned Place to Buy Children's Gifts: Kiddlestix
Peer into any child's toy box and you'll see them—that group of sad, forgotten toys that never get to come out and play. When you're shopping for children's gifts, the last thing you want is to contribute yet another friend to keep these lonely toys company. Fortunately, TulsaKids' readers know that selecting the perfect gift requires nothing more than a quick trip to Kiddlestix, a Tulsa toy store that has built its almost three decades of success on a passion for providing a carefully selected array of fun, imaginative, educational toys and games for children of all ages and developmental stages.
---
Dress to Impress
Favorite Locally Owned Place to Buy Children's Clothes: Just Between Friends (JBF)
When it comes to buying children's clothing, it's often a choice between costly high-quality items and less-expensive ones that are going to give out after a few wears—it's a no-win situation. Cue the arrival of Just Between Friends and—POOF—this dilemma ceases to exist. With events across Oklahoma, including Tulsa, Owasso, Jenks/Glenpool and Broken Arrow/Bixby to name a few, JBF makes it easy and fun to shop for high-quality new and gently used children's clothing and shoes as well as toys and other supplies all at major bargain prices.
Favorite Locally Owned Mom's Boutique: J. Spencer
Moms, please stand up if the last time you shopped for yourself was last Halloween when you bought that Dorothy costume to go along with your son's Scarecrow ensemble. Okay, now that everyone is standing, please make your way to our readers' favorite moms' boutique, J. Spencer, and let the attentive and talented staff help you pick out a unique summer outfit or piece of jewelry that will complement your personal style and make you feel fabulous in the season ahead.
Just Between Friends wins again! Not surprisingly, TulsaKids' readers love JBF not only as a destination for finding children's clothes, but also as their top choice for scoring major consignment finds such as maternity clothing, toys and children's furnishings, strollers and a variety of other items. A clean, organized and welcoming environment is what sets JBF apart from the competition.
---
All Things Baby
Favorite Place for Pre- and Post-Partum Classes: Saint Francis Hospital
Babies don't come with instruction manuals, but Saint Francis Hospital makes every effort to provide new parents with a wealth of information to ensure you are well-prepared to take good care of your new bundle of joy. Taught by registered nurses and certified childbirth educators, Saint Francis' childbirth/parenting classes help answer every expectant parent's questions about vaginal and Cesarean births, best pain control methods, breastfeeding and a host of other relevant topics. Circumcision, newborn screenings, vaccinations and choosing a pediatrician are just some of the post-partum classes and online resources available to help ease your concerns before taking home your new baby home.
Tulsa's favorite pink hospital wins yet again! With supportive, kind nurses and staff, and large, comfy, private rooms with sleeping couches for dad, it's no wonder our readers picked Saint Francis Hospital as their favorite place to have a baby. More than 4,000 babies are born each year at Saint Francis Hospital, and pediatric specialists are available 24/7 to make sure your little one receives the best care while you are there.
Favorite Locally Owned Place to Buy Baby Gifts: Peek A Boo Baby
Peekaboo! We see you! Voted as the best place to buy baby gifts for the second year in a row, it's impossible for Peek A Boo Baby to hide from our readers' affection. When you're in need for a unique baby gift that's sure to delight both parents and baby, look no further than Peek A Boo Baby, where you'll find unique and on-trend baby décor, clothing, accessories, diaper bags, books, baby mats, stuffed toys and a wonderfully helpful staff to help you pick out the perfect gift.
From the moment your newborn enters the world, time flies, and before you know it your baby is walking, talking and headed to school. There's no better way to capture the special moments of having a newborn than with a photography session with our readers' favorite newborn photographer, Ashley Noelle. With a passion for working with families and a gift for making photo shoots fun, easy and affordable, Ashley takes stunning photos that parents can cherish for a lifetime.
---
Education & Enrichment
TulsaKids' readers have high hopes for their young children, and chose Monte Cassino's Early Childhood Learning Center to help them provide the best educational start in life. They like Monte Cassino's emphasis on providing preschool students with exceptional teachers, small class sizes, play-based learning opportunities, socialization skills and carefully prepared activities in an environment that promotes early learning in reading, writing, math and science.
Favorite Private Elementary School: Holland Hall
Formative years demand a school where the focus is on building a strong academic foundation that will pave the way for success in the coming years. With a reputation for providing students with challenging, student-centered curriculum that promotes college readiness, Holland Hall Primary School for kindergarten through third-grade students helps each child realize his or her full potential as an individual with unique talents, learning styles and interests. No matter your child's favorite subject, you can rest assured that hands-on learning will take his or her interest and understanding to new heights.
Favorite Private Middle School: Holland Hall
It's no surprise that the very same TulsaKids' readers who love the Holland Hall Primary School are just as enthusiastic about Holland Hall's Middle School for fourth- through eighth-grade students. Here, expert teachers, collaborative cross-subject projects and a wide selection of course options come together to provide students with unparalleled opportunities for learning and personal growth.
An emphasis on Christian faith and principles coupled with high academic standards are what sets Bishop Kelley High School apart from the rest. As one of Tulsa's premier Catholic high schools, Bishop Kelley's mission is to ensure that students are provided with the individual guidance and tools necessary for helping them discover and utilize their unique God-given talents and abilities. If you've been looking for a high school that values service to others, personal development and commitment to excellence, then look no further than Bishop Kelley.
Favorite In-State Summer Camp: Falls Creek
Are you familiar with the "My parents made me go to camp" complaint? Not this time around! Located in the beautiful Arbuckle Mountains, Falls Creek Summer Camp is this year's camp of choice. Our Baptist readers choose to let their kids attend summer camp at Falls Creek because: 1. There'll be no complaining, and 2. It blends spiritual fellowship, breathtaking mountain scenery and outdoor activities, such as kayaking, volleyball, a skate park and a ropes course, for a summer getaway that your teen will remember for a lifetime.
School's out, and the screen is calling … or is it? Once your kids fly down the zip line, hone their archery skills, bounce on "The Blob," whiz down the slip and slide, go for a swim, ride on the lake and watch silly performances at Branson's Kanakuk Christian Summer Camp, the digital lure will be a distant memory. With a variety of day and overnight camp options for both kids and entire families, including adults, Kanakuk offers an unbeatable Christ-centered camp experience in which camp goers build lasting friendships and teamwork skills while developing a deeper relationship with Jesus.
Calling all young singers, dancers and actors! If your child has a passion for self-expression, then it's time to enroll them in a class or camp at Theatre Arts Tulsa where expert instructors help each student reach his or her full potential in a fun yet disciplined environment where students have the opportunity to learn everything from hip-hop dancing to musical theatre.
All they want to do is dance, dance, dance—and maybe dabble in yoga and stage makeup! For readers with an interest in dance and the performing arts, Tulsa Dance Company is the place to find experienced instructors to help you improve your technique and increase your confidence. With classes for every age and experience level, Tulsa Dance Company provides opportunities to learn contemporary dance and ballet, stage makeup and dance history.
Know how to defend, but first be able to diffuse. The development of confidence, character, fitness and self-defense skills are all part of the experience at Apollo's Martial Arts, the place where personal development and physical skills go hand in hand. With classes for all skill levels and ages, and locations in Tulsa, Owasso and the Broken Arrow/Bixby area, Apollo's helps children build life skills that will benefit them now and into the future.
Favorite Place to Learn Soccer: SoccerCity
The ultimate grounds for kicking are what you'll find at SoccerCity, Tulsa's premier indoor soccer facility that makes it possible to watch, learn and play rain or shine. A wide selection of summer camps and soccer classes for all ages and skill levels, along with the new Fit Feet Jr program, make SoccerCity the No. 1 choice for families with children who love playing soccer.
Kids rule at Metro Tulsa Soccer Club, the destination for families who want their children to have a positive and fun experience as they play soccer and perfect their own technique while gaining valuable life skills such as teamwork, sportsmanship and respect for others. A wide variety of programs and leagues are available with options for children of all ages and skill levels, including those with special needs.
Favorite Music Program or Lessons: Saied Music
Saied is alive with the sound of music! At Saied Music Company, making music is more than a beautiful sound—it's an experience that's integral to personal well-being and living the best life possible. For years, families have looked to Saied's experienced and talented instructors to help their children discover the joy and benefits that come from learning to sing and play an instrument. Whether you're interested in lessons for your child or yourself, Saied offers a private or group lesson that's sure to meet your musical needs.
Favorite Art Program/Lessons: Pinot's Palette
"Paint and Sip" is a motto that many a tired parent can get behind wholeheartedly. An opportunity for creative expression with a helpful side of wine or beer? Yes, please. Pinot's Palette is our readers' favorite place to hone their art skills as they join others for fun, guided art lessons taught by local artists, no prior art experience required. Although Pinot's does have a minimum age of 16 for regular public classes, its Little Brushes kids painting classes, family paint days and kids camps are just right for kids looking to show off their artistic prowess while learning new skills.
Jump in, the water's fine! The only local swim school to be both certified and approved by the United States Swim School Association, Miller Swim School will provide your children with the skills and confidence necessary for jumping, splashing and diving their way into the pool season ahead. Offering both group and private classes to swimmers of all ages from infants to adults, as well as a club swim team, Miller Swim School is passionate about ensuring that everyone is able to enjoy the benefits of this essential life skill.
Do you feel overwhelmed because your child is struggling academically and nothing seems to help? Many of our readers have experienced the same dilemma and ultimately found the solution in Brain Balance Achievement Center of Tulsa, a program where the focus is on locating and treating the root of learning and behavioral challenges. Each child is provided with an individual assessment and an ongoing academic and lifestyle plan tailored to meet their learning needs, while addressing any hindrances to the learning process, such as learning disorders.
---
Adulting
Can't go to the gym because the only thing for your kids to do is sit and stare at Mr. Macho as he shows off his weight-lifting skills? Luckily, TulsaKids' readers have discovered the perfect family-friendly gym that helps them stay fit while feeling good about bringing the kids along: YMCA of Greater Tulsa. A family membership to the Y means access to all of the equipment, swimming pools, basketball courts, hundreds of free weekly classes and more while your children have a good time at the Y's Play and Learn program for children age 6 weeks to 12 years.
Friendly and talented staff. Confidence-boosting cuts and color. A warm and welcoming environment. Opportunity to relax. These are just a few of the many reasons why TulsaKids' readers continue to vote Tulsa's own Ihloff Salon and Day Spa as their favorite salon year after year. With three locations in the Tulsa area and expert stylists who will ensure that you leave the salon feeling confident, Ihloff is the place where your search for the perfect salon ends.
We've all been there—wandering around a dealership in pursuit of the perfect car when, suddenly, big brother is watching our every move, pressuring you to buy a car for a price that we're not even sure is for real. Experiences like this can make you want to drive your tired-out vehicle until it refuses to start. Fortunately, families in Tulsa and the surrounding areas have the option to choose Jim Norton Toyota, the dealership that leaves satisfied customers raving about the friendly service as well as the unbeatable deals on both new and used vehicles. Jim Norton Toyota is a dealership our readers feel confident in choosing.
Favorite Childcare Service: KinderCare
Selecting a childcare service is a choice that's not always easy to make. How can you be certain that your child is being cared for and nurtured in a positive environment where play, learning and personal development go hand in hand? For years, families in Tulsa and the surrounding areas have entrusted the care of their youngest members to KinderCare childcare providers, with all local locations certified by either the National Association for the Education of Young Children or the National Accreditation Commission for Early Care and Education Programs. Whether you need childcare for your infant or toddler, a preschool program, or a before or after-school program for your school-age child, you'll find a local KinderCare that will exceed your expectations.
Do you feel like date night is a distant memory with an expiration date of October 2013? It doesn't have to be this way. TulsaKids' readers know that the revival of date night begins at Red Rock Canyon Grill, Tulsa's premier destination for a memorable dining experience. Located in south Tulsa with a view of the Arkansas River, Red Rock Canyon Grill provides Tulsa couples with the ambiance, relaxing environment and exquisite culinary options that will make your date night one you'll want to recreate again and again.
You work hard for your money and want to make sure that you entrust it to a bank that's going to go the extra mile. No matter if you're a small-business owner, need a mortgage, a loan or simply want to open a savings account, Bank of Oklahoma is the secure and stable choice that TulsaKids' readers trust for helping with all of their financial needs.
Favorite Home Cleaning Service: Merry Maids
"Just whistle while you work," sang no tired parent ever while vacuuming the house after a long day. Life is busy, and it's nice to have a break from time to time. For the fourth year in a row, Merry Maids has been chosen as our favorite cleaning service for coming to the rescue of exhausted parents across the Tulsa area. Known for creating individualized plans that address each home's unique needs, Merry Maids and its thorough team members are the best choice for keeping your home sparkling.
---
Staying Healthy
It is a rare child who loves going to the doctor, but that's not the case for the numerous kids, and many of their parents, too, who have or had Dr. John Knippers, M.D., as their pediatrician. For nearly 40 years, Dr. Knippers has consistently provided kind, loving, professional care to thousands of area children, making him our readers' favorite pediatrician.
When's the last time you went to a doctor who actually remembered your name without having to look at your medical record first? For Tracey Lakin, M.D., getting to know each of her patients individually and developing trust with them is a top priority. That's one of the reasons that TulsaKids' readers picked her as their favorite OB/GYN. Patients also choose Dr. Lakin because of her many specialties, which include high-risk pregnancy, adolescent health care, abnormal pap smears/dysplasia and preventative health care.
Looking for a great pair of glasses but low on funds? Need an updated prescription but don't have time to go during the workweek to get an eye exam? Look no further than Robert H. Zoellner, the optometrist of choice. For nearly 30 years, Dr. Zoellner has provided customers with friendly, personalized service, while offering the a large selection of eyeglasses. His clinics are even open on Saturdays and Sundays to make getting an eye exam and glasses convenient for everyone.
Having a cavity filled or your teeth cleaned is not most people's idea of fun. However, for children who go to Morrow, Lai & Kitterman Pediatric Dentistry, going to the dentist is fun! For over 32 years, these pediatric dentists have created happy, healthy smiles for countless kids all while making them feel comfortable and easing their fears. Not only do kids leave with sparkling smiles, they also learn how to properly care for their own teeth, which makes moms and dads happy too!
Having crooked or gapped teeth can be a source of embarrassment for children and adults alike. Dr. Clinton Emerson knows how much straight teeth and a beautiful smile can help build a person's confidence. He also knows that a proper bite is essential for good oral health. At Emerson Orthodontics, changing smiles is their job, and improving lives is their passion. That's why our readers have voted Dr. Emerson as their favorite orthodontist for five years in a row.
Itchy, watery eyes? Runny nose? Sinus pressure? When the pollen or mold count is off the charts, or parents need information about their child's specific allergy, TulsaKids' readers pay a visit to allergist Kathryn C. Brown, M.D., for relief from all of the pesky symptoms that are driving them crazy. Board certified in allergy/clinical immunology as well as internal medicine, Dr. Brown has practiced at Allergy Clinic of Tulsa since 2007.
Having ear infections can be painful, not to mention they risk causing permanent hearing loss. When your child needs to go to an ear, nose and throat doctor (ENT), one of the top ENTs in the area and the favorite ENT of TulsaKids' readers is Dr. William Hawkins, M.D. Since 1998, Dr. Hawkins has been treating area patients for disorders of the ear, nose, sinuses, throat, face and neck. He is especially interested in treating children and in diseases of the sinus.
Whether your child has developmental delays, autism, orthopedic problems, motor impairments, or attention and learning disorder, TherapyWorks in south Tulsa is TulsaKids' readers' favorite therapy clinic. This specialty pediatric clinic has been working wonders in numerous young people's lives since it was established in 1987.
It's a rough world out there! Parents of kids who either play sports or simply love to roughhouse know that injuries are part of the territory. Fortunately, Dr. Brian A. Chalkin, D.O., chosen as our readers' favorite orthopedic surgeon, can ensure that your child is up and moving again as soon as possible. Whether your child or anyone else in your family needs hand, wrist, shoulder, elbow or orthopedic surgery, Dr. Chalkin is our readers' No. 1 choice.
Hip, hip, hooray! It's a third win for Saint Francis Hospital! With two convenient locations in Tulsa, an eight-story trauma emergency center, plus separate hospitals dedicated to meeting the needs of children, heart and psychiatric patients, it's no surprise that our readers prefer Saint Francis Hospital. Since first opening its doors in 1960, Saint Francis' mission has been "extending the healing ministry of Christ," and treating each patient with dignity and integrity. Clearly, this mission is still at the heart of everything that Saint Francis does.
---
Comments
comments