2019 Enrichment Guide
TulsaKids' annual Enrichment Guide provides a list of extracurricular options in the Tulsa area for kids of all ages. Whether you're looking for art classes, tutoring, sports teams or more, these local businesses are here to ensure that your child has an enriching school year!
AHHA TULSA
101 E. Archer St.
Tulsa, OK
www.ahhatulsa.org
Ahha Tulsa's Hardesty Center is the place for families to be creative together! THE STUDIO invites visitors to think like artists through open-ended exploration of media and creative challenges. In THE STUDIO, visitors select their own materials from a wide array of possibilities, generate their own ideas, and make their own creative products. Eclectic community art classes include everything from podcasting to painting to Photoshop. Need creative inspiration? Visit THE EXPERIENCE on the 2nd floor. This large-scale, immersive art installation invites visitors to explore a fantastical environment through sight, sound, movement, and touch. Located on the 1st floor, THE GALLERY features rotating exhibitions of contemporary art. Access to THE STUDIO, THE EXPERIENCE, and THE GALLERY is included with regular admission. Visit ahhatulsa.org for more information.
---
AIM HIGH ACADEMY
Aim High Main Campus
7020 E. 38th St.
Tulsa, OK
918.664.8683
Aim High North Tulsa Campus
3740 E. Admiral Pl.
Tulsa, OK
918.794.4774
Aim High Academy offers gymnastics, ninja and dance classes. These classes not only teach strength, flexibility, balance and coordination but also build self-esteem and confidence. Aim High Academy's mission is to combine Fitness and Faith to help build bright Futures. For more information on our classes or enrollment, log on to www.aimhighgym.org.
---
BENCHMARK IN-HOME TUTORING
Contact: Emily Quinn
P.O. Box 766
Tulsa, OK
918.850.5363
www.benchmarktutors.com
Benchmark In-Home Tutoring is dedicated to empowering students through one-on-one, individualized instruction. We are locally owned and operated by certified teachers who have years of experience helping students be successful. Benchmark In-Home Tutoring was founded in 2006 to offer a wide range of educational opportunities for families throughout the state of Oklahoma. Our customers recognize that Benchmark's individualized one-on-one tutoring is the best approach to learning. Our highly qualified tutors are degreed professionals who understand what it takes to achieve success. We are flexible and work with your schedule in the comfort of your home or a public location of your choice. Your student's team creates a customized plan and matches your student with an appropriate tutor, who teaches to the specific needs of your student.
---
BRAVO SCHOOL OF PERFORMING ARTS
Contact: Chelsey Elam
5147 B S. Harvard
Tulsa, OK
918.688.2053
info@bravoperformingarts.com
bravoperformingarts.com
Ages served: 3-18
Bravo School of Performing Arts is a family focused environment where, through education in the Arts, students can feel safe and free to be themselves. We offer professional training in Acting, Musical Theatre, Dance and Voice. We believe that the arts can make a positive difference in students' lives by instilling a strong work ethic, cultivating confidence and bringing out their inner performer. Our classes offer a mix of professionalism in the arts and fun that your student will not want to miss out on!
---
DYSLEXIA CENTER OF TULSA
Contact: Dr. Penny Stack
8118-B S. Memorial Rd.
Tulsa, OK
918.313.5518
penny@dyslexiatulsa.com
www.dyslexiatulsa.com
Your child's reading success is our passion! Our expert team of occupational and speech therapists as well as teaching staff bring the perfect blend of evidence-based research supported medical and educational theory to address the "why" of reading struggles and the "how-to" of reading mechanics. To ensure your child achieves their maximum learning potential, we also provide services for printing and cursive handwriting, test strategies, organizational skills, time management, test prep and much more!
---
KJM EQUESTRIAN – ENGLISH RIDING LESSONS
Contact: Shawn McCorkle
9801 S. Sheridan Rd.
Tulsa, OK
918.299.9283
www.kjmequestrian.com
KJM offers English riding lessons for beginners, intermediates, and advanced riders at our two conveniently located facilities in South Tulsa and Southwest Broken Arrow for riders ages 7 and older. Students will ride our gentle school horses first in private lessons with the option of moving to group lessons with riders of similar age and skill level. Pleasure riders will take lessons once per week whereas the more serious riders that want to move into advanced classes or compete in horse shows will choose to lesson twice per week.
Our facilities are located at 98th and Sheridan and near 111th and Garnett. Lessons are available Monday through Saturday and are scheduled with one of our four professional instructors. Please call us at 918.299.9283 to schedule an introductory lesson or visit us on our website at kjmequestrian.com.
---
MATHNASIUM
Mathnasium of South Tulsa
8032 S. Yale Ave.
Tulsa, OK
918.574.2222
www.mathnasium.com/southtulsa
Mathnasium of Midtown Tulsa
3230 E. 21st St., #B
Tulsa, OK
918.574.2222
www.mathnasium.com/midtowntulsa
Mathnasium of Broken Arrow
1077 N. 9th St.
Broken Arrow, OK
918.574.2222
www.mathnasium.com/brokenarrow
Mathnasium of Owasso
12336 E. 86th St. N.
Owasso, OK
918.574.2222 Ext. 3
www.mathnasium.com/owasso
MATH THIS YEAR COULD BE GREATER THAN LAST YEAR!
Mathnasium is a nationwide network of math-only learning centers where students in grades 2-12 work to improve their skills, understanding, and confidence. Our approach is to use sophisticated techniques to determine what a student knows and does not know. Next, we create a customized learning program for each student. Each student follows the program with the help of specially trained Mathnasium tutors who provide instruction and encouragement. In addition, homework help is part of each session.
---
MILLER SWIM SCHOOL TULSA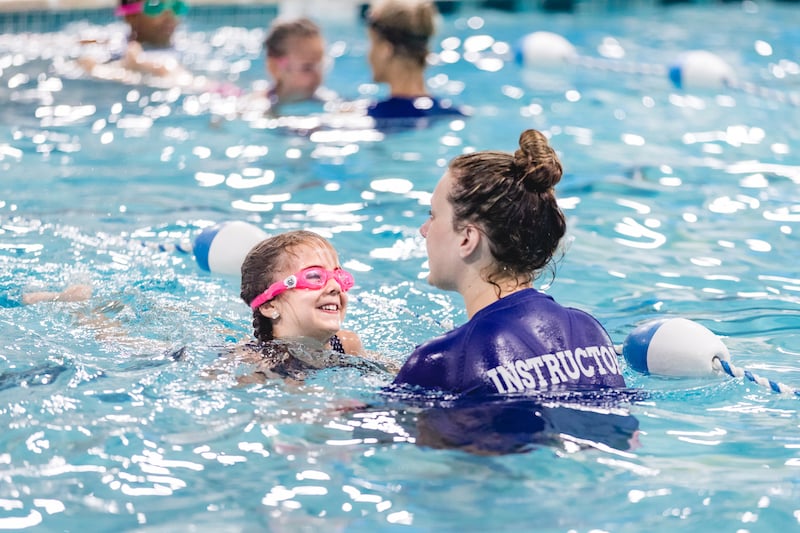 6415 S. Mingo Rd.
Tulsa, OK
918.254.1988
MILLER SWIM SCHOOL JENKS
525 W. 91st St. S.
Tulsa, OK
Miller Swim School has been in the unique business of teaching swimming for over 60 years. At Miller, our mission is to build a safer community, one family at a time, through swim lessons, water safety education and drowning prevention.
Swimming lessons are one of the best activities to keep a child active while providing them with a valuable set of life skills. Through participating in water activities, students are able to gain self-discipline, coordination, and balance. Studies have also shown that swimming lessons help children grow socially and intellectually.
At Miller Swim School, students are grouped according to ability and comfort in the water. Classes are offered year-round, at both locations, Tulsa and Jenks in both morning and evening and in the summer at our outdoor satellite pool facilities in Owasso. Transportation can be provided with our Miller Bus for schools and learning centers if needed.
Miller Swim School also offers party packages and open swim times, water aerobics, swim team, and triathlon training for families and friends to enjoy the pool year-round!
Check out our website for a comprehensive list of programs at www.millerswimschool.com and follow us on Facebook and Instagram for the latest news and specials!
---
OKLAHOMA AQUARIUM
300 Aquarium Dr.
Jenks, OK
918.296.3474
www.okaquarium.org
The Oklahoma Aquarium is the state's must-see attraction with thousands of fish from all over our aquatic world. From the world's largest collection of bull sharks to a 300-pound loggerhead sea turtle, there are many amazing fish to discover. Come see our newest exhibit, the Polynesian Reef, with diverse tropical fish and colorful coral. Experience our interactive touch tanks with stingrays, sharks, and more, and then feed our turtles and other sea creatures for an up-close animal encounter. Children can enjoy the new, outdoor coral reef-themed playground, and then see the different reef animals inside the aquarium. Join our experts during daily animal feedings, and then watch our dive shows as scuba-certified divers explore our tanks full of ocean wonder.
---
SAIED MUSIC
Saied Music Midtown Tulsa
3259 S. Yale Ave.
Tulsa, OK
918.742.5541
Saied Music South Tulsa
9320 E. 71st St.
Tulsa, OK
918.252.5541
Be Happy, Healthy & Smart! Make Music!
Since 1946, Saied Music Company has been the home of our area's top music teachers, instruments and print music. We offer the most respected brands and the best selection for your piano, keyboard, organ, band, orchestra, guitar, combo, and print music needs. Visit one of our six locations in Northeast Oklahoma, Arkansas, and Texas. Saied Music Company is proud to support the effort to keep music an integral part of our nation's elementary and secondary school curriculums. Call for information about lessons!
---
SOCCERCITY TULSA
5817 S. 118th East Ave.
Tulsa, OK
918.249.0044
www.soccercitytulsa.com
Ages: 18 mos. – 9 yrs.
Step onto the field during any Lil' Kickers class and you will find it transformed into a world created just for your child. Our well-trained coaches will thrill your child with 50 minutes of highly creative, high energy and age-appropriate activities that serve as a great introduction to soccer and help children master developmental milestones, appropriate for their age. Because Lil' Kickers is first and foremost a child development program, our purpose is really to help children mature on all levels. Our program focuses on helping children build strong physical, intellectual and emotional skills that will help them be successful on and off the soccer field. We believe in teaching children in ways that suit their developmental level. So, you won't see adult-like skill drills in our classes, but you will see teaching methods specifically designed to create an atmosphere that is effective and fun. You will also see happy, confident and sweaty kids who are eager to learn and want to keep coming back for more. Whether your child is new to soccer or has already developed a love for the game, the progressive nature of Lil' Kickers offers a place for children at every level. Our convenient class times provide families options to accommodate multiple children and busy schedules. Registration and the fall schedule will be available by July 20. The fall session will be 10 weeks long and start August 19 and run until October 26. Come and join us and see why we have been voted a Family Favorite Best Soccer Program/Athletic League in Greater Tulsa since 2013!
---
THAT'S DANCING! STUDIO
Contact: Kara Ritchie
4427 E. 31st (on 31st between Harvard & Yale)
Tulsa, OK
918.408.6226
www.thatsdance.com
Ages Served: 2 1/2 & Older
ENROLL FOR FALL DANCE TODAY!
Classes begin August 19
That's Dancing! offers quality instruction in Ballet, Tap, Jazz, Lyrical, Musical Theatre, and Hip-Hop for kids ages 2 1/2 & older. It is our mission to provide the best dance instruction to all ages in a fun, supportive, and caring environment. We hope that while discovering a love for dance, each student will also gain self-confidence, discipline, and self-expression. Whether students are dancing for fun and exercise or planning to enter into dance on a professional level, we will guide and encourage them along the way. We look forward to seeing our current students this fall and want to welcome our new students dancing with us for the first time. Easy enrollment is available online at www.thatsdance.com, by phone, 918.408.6226, or visit one of our open house dates.
OPEN HOUSE DATES: Sunday, July 28th, August 4 & August 11 from 2-4 P.M.
---
TULSA BALLET CENTER FOR DANCE EDUCATION
Two Locations: Tulsa & Broken Arrow
Broken Arrow Campus
HardestyCDE@tulsaballet.org
1901 W. New Orleans St.
Broken Arrow, OK
918.872.6414
Brookside Campus
education@tulsaballet.org
1212 E. 45th Pl.
Tulsa, OK
918.712.5327
Ages served: 3-Adult
Tulsa Ballet Center for Dance Education offers exceptional dance training to students as young as 3 years old and gives the opportunity to continue training through the adult years. TBCDE classes follow a structured curriculum, while providing a safe and fun dance environment with highly qualified and caring teachers. Both our Brookside and Broken Arrow campuses offer state-of-the-art studios with sprung floors, spacious lobbies with free Wi-Fi, student locker rooms, and in-house performance theaters. From Classical Ballet to Jazz, Tap, and Hip Hop, TBCDE has a location and class time that is convenient for you! Classes start soon for the 2019-2020 school year. Come join the TBCDE family!
---
TULSA ZOO
6421 E. 36th St. N.
Tulsa, OK
918.669.6600
www.tulsazoo.org
Let the Tulsa Zoo inspire your young animal enthusiasts. The zoo offers year-round educational experiences for individuals, schools, groups, and entire families — from kids to grandparents. Outreaches, classes, overnights, camps, Story Times and the COX Nature Exchange are just a few of the ways that children of all ages can learn both at the zoo and at their school. Each day brings new opportunities to learn about our animals through chats and presentations led by staff and volunteers. Visit tulsazoo.org to discover more about educational opportunities at the Tulsa Zoo, the region's largest paid daily attraction. Tulsa Zoo: connecting, caring and advocating for wildlife, people and wild places.
---
TWIST AND SHOUT TRAINING CENTER
4820 S. 83rd E. Ave.
Tulsa, OK
918.622.5867
www.shouterspirit.com
Twist and Shout was established in 1996. We train all levels of athletes in Tumbling and Cheer throughout Oklahoma in Tulsa, Edmond and Norman for ages 4 and up! Our goal is to teach all level of athletes to progress in sport and character!
Our program offers:
*Competitive and Recreational Cheerleading
*Competitive and Recreational Tumbling
*PowerTumbling: a form of floor-only gymnastics
*Summer Tumbling and Cheer Camps
*Monthly Tumbling Clinics: One Saturday each month for 2 hrs. throughout the year
*Birthday Parties
---
Comments
comments